Services
VM&TS provides a complete range of service that covers all the aspects of the project cycle
We place a high importance on proactive Environmental Health and Safety and Quality management within all stages of project delivery, running from design concepts to commissioning and life cycle completion.  Our EHS and QMS delivery certainly meets equals and usually exceeds all corporate client expectations.

Global Services
In VM&TS our intention is to provide a complete range of service that covers all the aspects of the project cycle.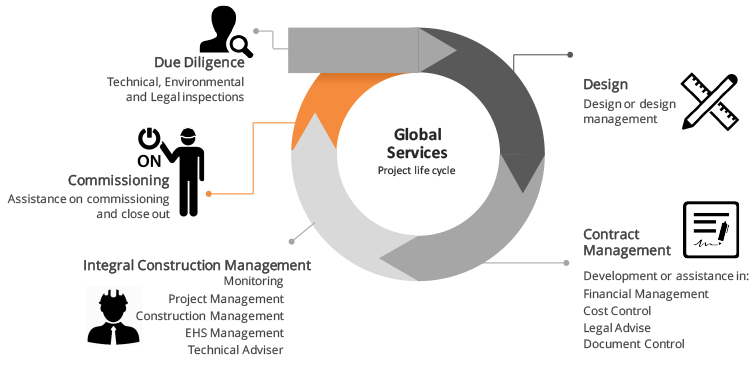 DUE DILIGENCE
We recognise that technical due diligence inspection needs to be tailored to suit a client's specific needs.  Whether the client is the landlord, the tenant or prospective purchaser not only the inspection but the emphasis of the reporting will need to reflect what the client needs to know.
Our reporting is also tailored to meet client requirements.  Unless specifically instructed otherwise, we would provide concise summaries and recommendations in clear text for non-technical readership combined with both a photographic record of the site and an in-depth detailed technical description sections that can be used as a point of reference in any later discussion.
Reports can be provided in one of several languages, checked by native speaker to ensure ease of reception by the client.
Before we commence a technical due diligence inspection we need to know reasoning behind the request and what the client needs from the inspection.
We have carried out technical due diligence inspections for clients for many reasons but principally the following categories make up the majority of cases.
Asset lease or purchase
Sale and leaseback
End of lease dilapidation Condition survey in anticipation of taking a lease
Building Regulation compliance including health and safety issues
Licencing compliance including checks with town hall registry
Risk analysis for the presence of dilapidated materials
Estimation of immediate and long term CAPEX liabilities
Topographic and Measurement surveying to establish accurate lease figures
Environmental survey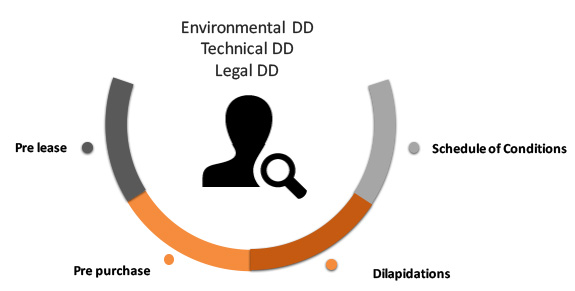 The personnel that make up the VM&TS survey teams have carried out literally thousands of inspections, but we detail below just a small selection of recent projects that provide a flavour of the scale and diversity we have covered.
DESIGN AND DESIGN MANAGEMENT
VM&TS provides design services that encompass the following;
Architectural
Structural engineering
Civil engineering
Electromechanical Services Engineering
Bills of Quantities
Specifications
Drawing on many years of experience our designs are based on know and tested methods while using imagination and flexibility to deliver cost effective solutions that meet the clients' needs and aspirations. To meet these client needs we need to know our clients' businesses and their operational philosophies.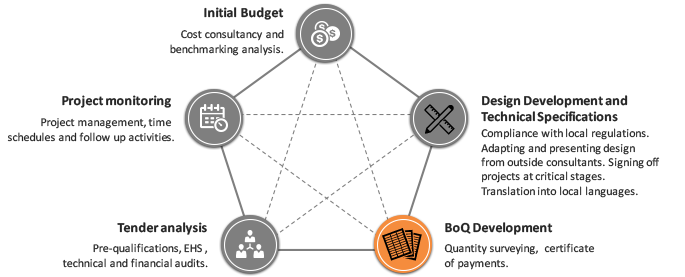 Licencing and Permits
Within Spain we are licensed to sign designs and licenses and we collaborate with in-country associate professionals to provide licensing worldwide.
Local Compliance
When required, particularly when working in emerging markets, we work in association with and lead in-country design teams to deliver design packages that meet the scope, quality and detail that would be expected within more mature markets.  Our many year's of experience working internationally enables us to provide designs that meet both International and local standards.
Scopes
Depending on the client requirement we adapt our delivery so that we have provided the following services for corporate clients
Performance Duties to permit design and build contracts to be sought and delivered
Full design to provide tender stage documentation to allow contractor development of the working "For Installation"
Full design for direct installation by contractor
All stages of design are audited to ensure the provision meets budget cost compliance, build-ability and compliance with full life-cycle SHE requirements.
PROJECT AND CONSTRUCTION MANAGEMENT 
We provide project and construction management customised to meet our clients' needs. For these reasons we have provided different dedications to suit and reflect need.
Site monitoring and reporting – generally on a regular periodic basis to evaluate compliance of design and construction contractors with the contractual imperatives, assessment of progress, auditing of SHE compliance, auditing and certification of valuations.
Site based eyes and ears – To provide a permanent presence on site to liaise fully with the contractor delivery team to monitor and control adherence with the site based contractor management team
Project management – Providing a project management permanently on site to run the site with a principle contract appointed to run their direct labour and their sub contractors.  
Construction management – To run and manage and control the coordination activities of individually directly appointed contractors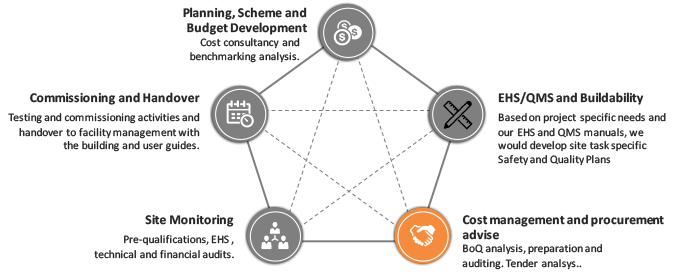 Aspects of Project management
Staged Planning Schedule development using MS PROJECT
Cost estimation including budgeting
Risk analysis and assessment including mitigation strategies
SHE assessment, auditing and management including site safety plans and strategies, safe working method statements and rigorous monitoring to ensure compliance
Quality management with regular inspection, photographic recording and production of defect listings during the site delivery
Leading regular site meetings
Honest reporting on progress, costs, risks and mitigation strategies
Testing and Commissioning in a controlled and staged manner to guarantee safe operation compliance of all systems
Signing off and handover with full record and maintenance documentation
Life cycle analysis
Contract and Commercial Management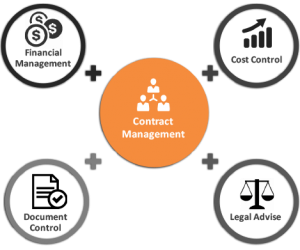 Formation of tendering packets to meet project needs
Contractor auditing prior to tender and formation of tender listing
Competitive tendering including tender analysis and recommendation
Formation of contract documentation
Validation of contracts in-country
Fiscal audit and considerations to minimise taxation
Project cost audit, projections and monitoring
Monthly valuation sign-offs, prediction and risk analysis
Our consulting Installations design services include:
Low Voltage Installations
Medium Voltage Installations
Very Low Voltage Installations
Air conditioning
Plumbing
Drainage
Fire Protection
Gas, etc.